Injec
-


tables

Conveniently located to serve in Scottsdale
Arizona, Orinda and San Diego California.

Schedule
What are Injectible Fillers?
Injectable fillers work by supporting the dermal layer by filling in areas where volume has been lost or where there are shadows. Dr. Tamplen uses his extensive surgical knowledge of the face to carefully inject the mid-face to volumize the cheeks, under the eyes in the tear trough to camouflage lower eye bags, in the nasolabial folds and marionette lines to soften them, to add fullness to the lips and fill superficial lines above the lip line, to build the chin, and even to restore the jawline or hide jowls.
WHICH INJECTABLE FILLER IS RIGHT FOR ME? Dr. Tamplen uses only use hyaluronic acid fillers, as they are the most forgiving, least likely to form lumps or bumps, and can be dissolved with a hyaluronidase injection if necessary. These fillers include the Restylane family of products and JUVÉDERM® Injectable Gels. Each filler has different characteristics, including thickness/body, longevity, and versatility. Thicker, heavier fillers last longer but must be placed deeper in the skin to prevent lumpiness. Dr. Tamplen will determine the best options for you based on your goals and concerns. Patients are welcome to fly in for same-day consultation and treatment and can return home the same day!
Injectible Filler
Procedure
Fillers take about ten minutes and are done comfortably by prepping with numbing cream alone. Typically, numbing cream is applied to the area being treated with injectable fillers to anesthetize the area before the treatment begins. Often all that is necessary for a comfortable injection experience. Dr. Tamplen frequently uses a micro-cannula technique to further enhance comfort and lessen the risk of bruising following filler injections.
Injectable fillers can do so much more than fill lines! Dr. Tamplen uses a combination of Juvederm and Restylane fillers to perform a non-surgical Facial rejuvenation in under 15 minutes with no anesthesia, no surgery, and no recovery!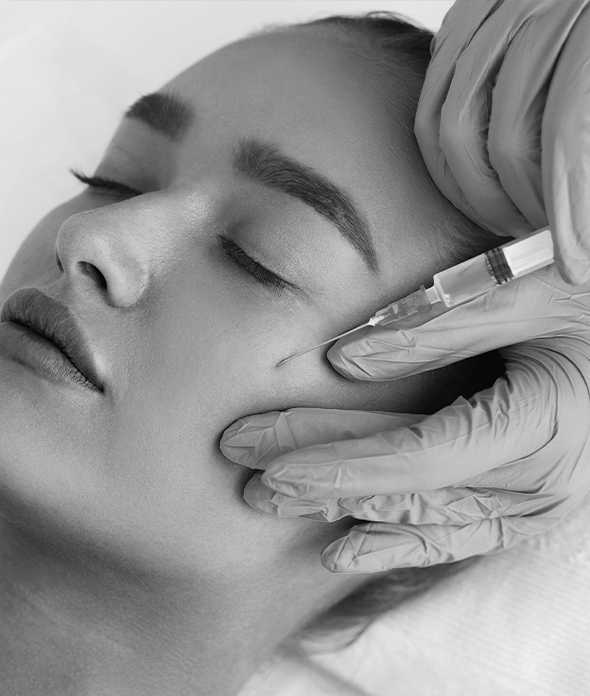 The Mico-Cannula Technique
Dr. Tamplen preforms non-surgical facial rejuvenation with a special instrument called a "Micro-cannula." With this technique Dr. Tamplen uses his surgical expertise to inject fillers in a way that is nearly painless and usually generates no significant bruising.
INJECTABLE FILLER RECOVERY & RESULTS
Swelling is common with treatment in certain areas like the lips and under eyes, and this swelling can last for 2-4 days. Significant bruising is possible but rare. It is recommended that patients avoid blood thinners such as aspirin, Motrin/ibuprofen, Aleve/Naprosyn, fish oil, vitamin E, and flaxseed oil for 2 weeks prior to treatment.
To further minimize bruising, we recommend avoiding exercise for 24 hours after treatment.
Are Fillers the same as BOTOX®
Cosmetic?
No! BOTOX®, Jeuveau, and Dysport work much differently than fillers. These products are on off switch to relax muscles in specific areas of the face that, because we use them often, wear in lines over time. Commonly treated areas with Botox or Dysport are the crow's feet, the space between the brows, which is called the Glabella, the forehead, and the tail of the eyebrow, for Dr. Tamplen's perfected chemical browlift.
Fillers are made of hyaluronic acid and are injected to volumize areas of the face or fill in shadows.
Are there any Contraindications to Injections?
Any history of allergies to the filler ingredients is the main contraindication. Patients on coumadin or other prescription blood thinners are also at a much higher risk of dramatic bruising. Please Discuss with Dr. Tamplen if you are on any Blood Thinners.
THE DR. TAMPLEN DIFFERENCE
Dr. Tamplen is a double board-certified facial plastic surgeon. He performs all procedures on the face whether that is filler, Botox, lasers, threads, or surgery. He will perform a detailed physical exam on every patient on only recommend treatments that will give elegant and natural results. He uses only the best products with advanced techniques like the Mico-Cannula. With his extensive surgical knowledge, he can place fillers in the correct location to ensure every patient is satisfied and not over filled or puffy. He is well known in the Bay-Area and Scottsdale for his elegant natural lip injections, jaw contouring, and his nonsurgical facelift and midface augmentation with cheek filler.
Choose your preferred
LOCATION
Schedule a
consultation
in Scottsdale
Dr. Tamplen, a well-known Facial Plastic
Surgeon in the Bay area is thrilled to have
stay joined Zona med Spa in Scottsdale.
Schedule
Schedule a
consultation
in Orinda
Dr. Tamplen is looking forward to helping Bay Area patients with all their Facial cosmetic and reconstructive needs.
Schedule
Schedule a
consultation
in San Diego
Dr. Tamplen, a well-known Facial Plastic
Surgeon in the Bay area is thrilled to have opened a new practice in San Diego.
Schedule